| Alarm.com Smart Thermostat |

Meet The Alarm.com Smart Thermostat!!
Saving energy at home should be very simple. With Alarm.com's new Smart Thermostat it is.
The new thermostat lets you save energy simply, with no guesswork, complexity or inconvenience.
In fact, you'll barely notice... except when it comes to your power bill.
Fully integrated into your Smart Home Security System, it can do more than other smart thermostats.
That's because it has more information about what's gong on inside and outside your home, enabling it to take smarter actions that give you the perect balance of energy savings and comfort.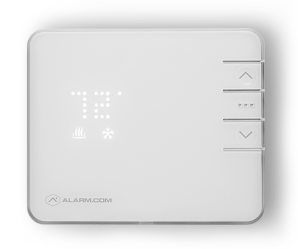 While standalone thermostats use single moton detectors to "learn" your ideal heating and cooling scchedule, our has access to every sensor in your security system. Instead of guessing what's happening based on a single rooom, it takes real cues from your security panel, the motion sensors throughout yourhouse, your door and window sensors and more.
Becasue it's connected to your secuirty system, our thermostat can even helpo saeguard you from environmental threats like smoke and carbon monoxide. In the event of your connected smoke / Co sensor detecting either hazard, our thermostat instantly shuts your HVAC down, minimizing the chance of toxic gas or damaging smoke circulating through your home.
Sure there are lots of other Smart Thermostats, but none will send you a text message when someone cranks it up a few degrees. Ours sure will.
Call us today so we can add a Smart Thermostat to your home.
Call Us at (416) 773-5625